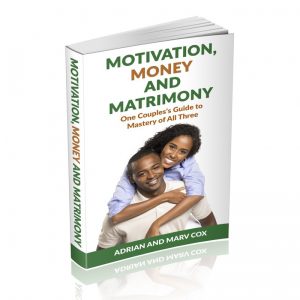 Motivation, Money and Matrimony – A Couple's Guide to Mastery of All Three
By Adrian and Marv Cox
Motivation, Money and Matrimony reveals how one couple juggles each of these areas to achieve joy and success in all three. Ever wonder how some people seem to have all the "luck"? How success seems to "follow" them in every area of their life? How some seem to "sail" when others seem to "fail"? This book reveals the "secrets" as to how to harness the power of all of these critical areas and to realize success in all three.
Love is attainable by everyone. Money is in abundance to all who know how to attract, retain and grow it. Motivation can be found even in failure. This easy-to-follow success roadmap takes you on a linear journey. A journey, as experienced by one couple, that cracks the door open and reveals how they maintain balance and success even when failure rears its inevitable head.
Motivation, Money and Matrimony is a simple-to-read blueprint that draws on life experiences and the success of others, to guide the reader towards the success they deserve in their life.